EAST COLLEGE FARM
---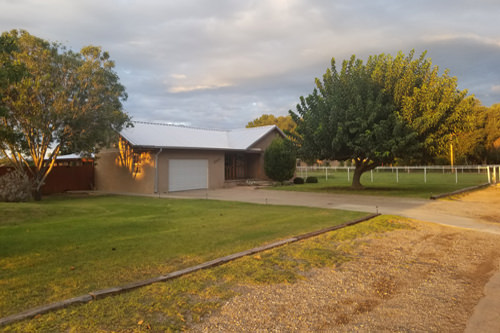 EAST COLLEGE FARM
Price: $460,000.00
10.0 Total Acres
8.9 Acres Senior Artesian Water Rights

TThe East College Farm is an improved irrigated farm with senior artesian water rights. The improvements include a single-family 2,342 square foot residence with an attached garage along with a separate small-furnished apartment with its own private entry. Quality domestic water is provided to the residence and apartment by Berrendo Water cooperative by way of a metered water line. A private domestic well on the property provides water to the surrounding landscape, trees and garden. There are two fully mature producing pecan trees adjacent to the residence that produce ample pecans and excellent shade.

The interior of the main residence includes two bedrooms, two bathrooms, kitchen, living room and large family room. The flooring is carpet in the bedrooms, living room and the family room. The dining area, kitchen and bathrooms have tile flooring..

The kitchen is complete with built in ovens, a stovetop cook stove, built in dishwasher, tile counter tops and wood cabinets. A French door refrigerator, pellet stove, washer and dryer are included in the sale.

The irrigated land has been leveled, watered by one sidereal sprinkler. The irrigation water is supplied by one artesian well, which is shared with the neighboring property. The cropland is currently planted in winter wheat. New alfalfa will be planted in September of 2020. The cropland is productive and providing a cash flow to the property.

The east college farm is easily accessible from east college avenue with direct access from the street. Entry to the property may also be made from 17th street on the north end of the property. The residence is adequately off set from the street with the exterior of residence landscaped and well manicured. The back yard is fully enclosed and private.
Shown By: BAR M REAL ESTATE, LLC to qualified purchasers by appointment only. Information furnished concerning the East College Farm has been obtained from sources deemed reliable and it is believed to be correct; however, no responsibility is assumed therefore no warranty or representation is made as to the accuracy of the information provided herein. The information is submitted subject to errors, omissions, changes, prior sale, or withdrawal from the market without notice. For further information and an appointment to see the
EAST COLLEGE FARM,
Please contact:

Scott McNally
Bar M Real Estate
P.O. Box 428
Roswell, New Mexico 88202
575.622.5867
www.ranchesnm.com
EAST COLLEGE FARM MAP